An Open Letter To The ICON Community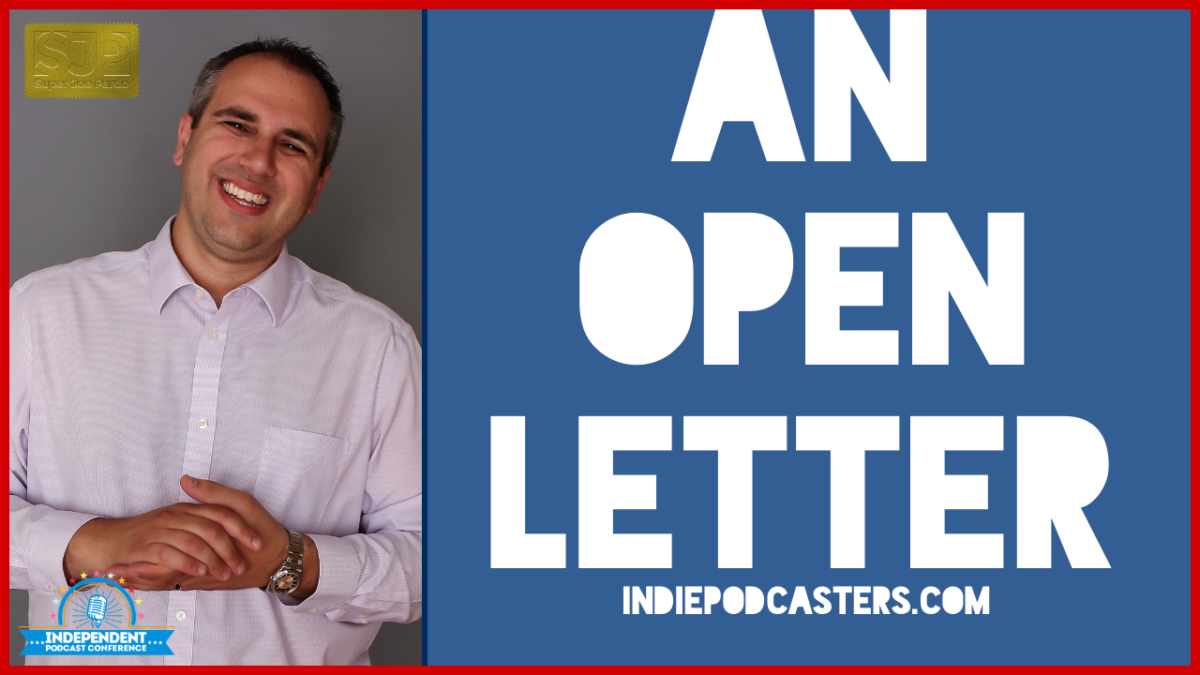 Check out the Super Charge Your Podcast
Hi ICONS!
I'm excited to write this open letter to our community to formally announce my intentions to turn Independent Podcast Conference (formally Mid-Atlantic Podcast Conference) into its own business!  
Running the Indie Pod Community (ICON) for the last five and a half years has been a true honor. Getting to bring people together from all over the planet has been some of the biggest highs I have received over the years. While ICON started out as a hobby pet project. it grew over the first three years into a branch of my business (234 Solutions, Business Consulting).
In reflecting on 5 years of MAPCON at our in-person event in September 2019 (MAPCON5), I spoke for the first time giving a talk at a MAPCON event. I ended the talk by stating the change from Mid-Atlantic Podcast Conference (MAPCON) to the Independent Podcast Conference (Indie Pod, ICON) and how I planned to take my responsibilities for growing the community more seriously throughout the year instead of just a couple months out of the year. 
To date, I have been able to keep that promise to the community. I took over hosting the Indie Pod Podcast and hosted that show every Wednesday night at 8 PM EDT and continue to do so. I put together a team of amazing ICONS from our community that has generously donated their time and expertise to help make our events go off more smoothly. 
The ICON Team
The team includes Aimee J, David O'Steele, Eric Hunley, Leon Flitton,  Mathew Passy, and Samantha Riley. They strongly believe in the message that our community brings to the podcasting world as a whole. That we are independent and that together we are powerful.
THE ICON ERA
Since September 2019 it has been my intention that by giving the community my full attention, that it deserves, we could grow and expand the community to new heights. In September 2019 our Facebook Community had around 400 members that were largely stagnant, outside of the 2-3 months leading up to our annual event and 1-2 months after the event was over. 
That stagnation definitely challenged me over the years. questioning if what I was giving to the podcasting world mattered enough to justify the time and effort to put on events. I soldiered on with the help of community members from across the years, to tell me how much they have loved and appreciated their MAPCON Family.
Since changing the name to Independent Podcast Conference our Facebook Community, Website Traffic, Podcast Downloads, and Engagement has gone through the roof. We have been gaining 3-15 members daily in the Facebook Community. It's been inspiring to see so many new faces are coming in and jumping right in to engage and be a part of the discussion. I'm over the moon that so many people see the value of not just the Facebook Group, myself as a leader, but in each other. Taking the time to connect and learn from each other within the group.
My goal even as a teenager has always been to bring people together and unite them under one cause. Hosting events has been a part of my life since I was a little kid running around at my family's annual vendor night (1,000 people would attend a 5-hour event) for our business.
The Pandemic Sparking Change
When the pandemic hit, I made the decision to finally take the time. Since I wouldn't be going into work at my family's heavy-duty repair shop, I could spring into action to unite and bring people together.
In just ten days I put together a two-day virtual event that included more than forty speakers from across the planet. We raised over 500$ for the CDC during the event as a way of saying thank you to the speakers, and myself. 
I didn't want the party to end because I knew people were sitting at home wanting to connect in a positive environment. I immediately set a date two weeks later to host my next event, specifically for entrepreneurs. Two weeks after that I did another conference for podcasters specifically for social media promotion and then kept going. Since March 29th, I have virtually hosted seven events that have been extremely successful.
People have asked me why I haven't charged for any of these events. What I have said from the beginning, is that it is my intention to grow the community. It's worked. From September 2019 until now (June 27th) we have grown the community four times over with no end in sight.
Beginning of Changes to ICON
Starting at the beginning of June 2020 I decided to start going live every day in the Facebook Community. This has allowed me to serve the podcasters in our community by helping them get motivated to podcast more, learn podcasting tech, have access to more lessons from podcasting experts in our community, deliver free podcast coaching to our members, answer questions and allow for our community share their podcasting wins. My intention is to keep up the daily Facebook Lives and continue to deliver valuable information and engagement daily.
I am extremely grateful for everyone who feels committed to the mission, brand, and community.
With all these changes, I have made the decision to amplify the results we have achieved to this point, To continue this work, I am pausing nearly all other operations of my business. I have also stopped working at the repair shop since the end of March to help protect my son, Dom who is two years old with reactive airway disease. 
This has created an opportunity to bolster ICON and work from home through this pandemic. Now, I can focus almost exclusively on building Independent Podcast Conference into its own full-fledged business. Identifying over 12 revenue streams for the business and putting my efforts at the forefront of those streams is how I plan to expand ICON.
Keeping with my intention of always being as fully transparent as possible here are the revenue streams where I plan to focus my efforts. I write this because I want you to look at your podcast as a business and take ideas from my life to build your own.
Virtual Event Sponsors
One on One Podcast Coaching
Masterclass
JV Masterclass
Annual Event Sponsors
Indie Pod University
Indie Pod Daily Show Sponsorship
In-Person Ticket Sales
Live Stream Ticket Sales
Super Circle Membership
ICON Gear
It's important to note that I will never sell your information. Sponsorships/Partnerships are never welcomed to our private email list. Privacy is important to me and as a member of the internet since '94, I take it very seriously.
Where we go from here
I've been helping people with their podcasting efforts since I got into podcasting, back in 2014. With my background in computers, audio, and teaching,  it has been natural for me to help lead during our podcasting revolution.
At the beginning of June, I launched The Indie Pod University. This platform allowed me to serve up past MAPCON and ICON talks for one low monthly price. The membership site gives you access to well over 100+ hours of podcasting resource videos that are growing daily.
I didn't want to stop there.
Now, I am super excited to announce the next step in offering podcasting resources:
Super Charge Your Podcast: Podcast Coaching, Video Resources, and Private Community Turn your podcast (or idea for a podcast) into a machine, build a stronger community, make more money with your podcast, and gain more notoriety than ever before!
The Super Circle is a private, paid extension of the ICON community that allows our members who want one-on-one, priority access and attention from me to grow their podcasting efforts. Included with your membership you get access to the Indie Pod University to help amplify members' efforts.
My podcast The Super Joe Pardo Show (formally Dreamers Podcast) has been converted over to a vlog and podcast that allows you to follow along behind the scenes on my journey to building this business into its own entity. This allows me to get some more creativity out and deliver business lessons to the community to help them avoid the pitfalls.
I am grateful for all of the smiles this community has given me. I am grateful for all of the growth and success the members of this great community have produced for themselves.  I am grateful for my family holding me up through the years of building this great community.
I write open letters when I feel passionate about something and want people to understand where I am coming from. It is my hope that I can continue to lead the charge of independent podcasters into the mainstream media, the mainstream and big money corporations continue to buy up and produce mainstream content. It is our voice that needs to stand front stage, loud and proud as we march into the future. As podcasters, we are leaders of our communities and it is important that we lead with love.
I appreciate you taking the time to read this to the end. I look forward to growing with you well into the future.
You're invited to ask questions and I will do my best to answer them.
Thank you for this opportunity to provide for my family, my growing team, and our community.
Super Joe Pardo
Founder
www.IndependentPodcastConference.com
P.S. Watch the first episode of the new VLOG